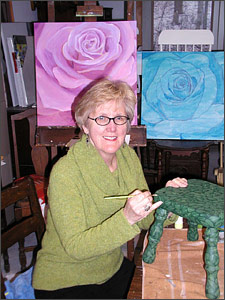 Marilyn Fegan
furnARTure
Hi, I'm Marilyn.
Thanks for taking a little time to read about me and my art. I have been an
artist for over 30 years. I think I can best be described as a painter who
should have been a sculptor. I love three dimensional pieces!
My work has been described as "traditional painting on nontraditional
canvases." I can look at something and for me it becomes a canvas. It can
be a bowl, a chair, a table, a wall, anything. I find interesting pieces and
let them tell me how to paint them. Sometimes I will begin to paint without a
plan and enjoy letting the piece evolve.
Instead of becoming trash, old pieces of furniture are given new life as
functional pieces of art. My friends help keep my studio filled with soon-to-be
treasures discarded or found at garage sales and thrift stores. I am careful to
use sturdy, good quality pieces. Something can be a little crooked or cracked
but that usually adds to its history and charm. Because my "canvas"
source is nontraditional, most of my pieces are unique, one-of-a-kind items.
I especially like that my paintings are touchable. You can pick them up or turn
them around to see all sides. You can rub your hands across them and enjoy
their details and smooth finishes. They are beautiful, touchable and
functional!
I have shipped my work all over the country. One small table I painted now
resides in Paris. Most of my work
is sold through the Cazenovia Artisan's Gallery, however, I do many
commissioned pieces and local murals as well.
Thanks again for your interest. I hope you enjoy my art as much as I enjoy
creating it!
Contact Information:
Name: Marilyn S. Fegan
Name of Business: furnARTure
Address: 1570 Route 20 West, Cazenovia, NY
13035
Phone: 315-655-5949
Email: mfeganart64@gmail.com
Website: marilynfegan.com